| | |
| --- | --- |
| | Kobelco Construction Machinery Co., Ltd. |
May 12, 2015
Kobelco Construction Machinery Holds Groundbreaking Ceremony for Construction of Plant in North America
Kobelco Construction Machinery Co., Ltd. (president: Jun Fujioka; headquarters: Shinagawa-ku, Tokyo; hereinafter, "KCM") held a groundbreaking ceremony for its hydraulic excavator plant at the planned construction site in Spartanburg County, South Carolina, USA on May 8, 2015 (local time).
Under a clear sky, 70 people attended the groundbreaking ceremony, including the Japanese Consul General in Atlanta, Mr. Kazuo Sunaga; Mr. Anthony Allen from the South Carolina Department of Commerce and others from the State of South Carolina; and the Honorable David Britt and other relevant people from the Spartanburg County Council. Other participants included representatives from local Japanese companies, real estate companies, contractors, Kobe Steel, Ltd., KCM, and people from the North American factory.
The North American facility will be incorporated into U.S. subsidiary Kobelco Construction Machinery U.S.A. Inc. (located in Katy, Texas; president: Katsuhiko "Pete" Morita; hereinafter, "KCMU") which is already operating in North America. With the construction of the plant, KCMU will be reorganized into a company with integrated manufacturing and sales.
In the opening greetings, President Fujioka stated "we are truly excited to be able to build a production base in Spartanburg County where there is good access to customers and a wonderful employment environment. The U.S. market is the most important area where continuous growth is expected in the future. We look forward to contributing to South Carolina and the advancement of the industry in the U.S. to the best of our ability." Following President Fujioka's greetings, KCMU President Morita expressed determination as well as gratitude toward the people involved and customers who are welcoming them warmly.
For KCM, this facility will be the seventh production base after bases in four other countries: Japan (Hiroshima and Ogaki), China (Chengdu and Hangzhou), Thailand (the Eastern Seaboard Industrial Estate in Rayong), and India (Sri City Industrial Estate in Andhra Pradesh).
The North American plant will be equipped with assembly, paint, and shipment lines. Operation has been scheduled to commence from January, 2016. It will have an annual production capacity of 1,800 units. KCMU intends to manufacture 20-ton class standard-model excavators. Demand for this class of excavator is the largest in the U.S. market. KCMU is also planning to expand the menu and production volume together with market development while accommodating market needs.
KCM reentered the U.S. market in 2013 and has been putting effort into building a distribution network through KCMU. As a result, KCMU has concluded distributor contracts with a total of 63 companies (53 in North America and 10 in South America) as of April, 2015 and has been increasing its sales volume and market share. Currently, market development has been proceeding faster than expected, but with the establishment of the production base in the United States, it will be possible to reduce production lead time for products for North American users, improve the capability of responding to market needs, reduce the operational burden on the Hiroshima Itsukaichi Factory, and ultimately establish an optimum group-wide production system
<Outline of Kobelco Construction Machinery U.S.A. Inc. (KCMU)>
[Name]
Kobelco Construction Machinery U.S.A. Inc.
[Location]

Headquarters:

Katy, Texas, USA

U.S. plant:

Spartanburg County, South Carolina

[President and CEO]
Katsuhiko "Pete" Morita

<Outline of U.S. Plant>
[Area]
Site area:
About 310,000 m2 (76 acres)
Building area:

<Factory building>

About 14,500 m2 (156,000 square feet)

<Office building>

About 1,600 m2 (17,000 square feet)

[Production capacity]
1,800 units / year (initial plan)
[Models to be produced]
Begin with 20t model (more models to be added to the menu sequentially.)
[Commencement of operation]
Scheduled for January, 2016
[Amount of investment]
$41 million (about 4.8 billion yen: 118 yen/$1.00)
<Photos from the Groundbreaking Ceremony>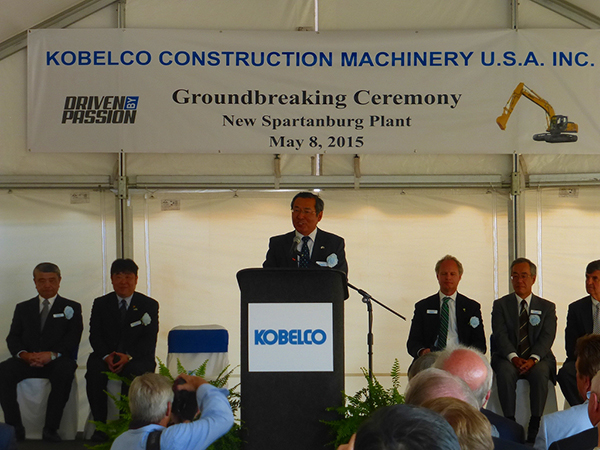 Greetings from President Fujioka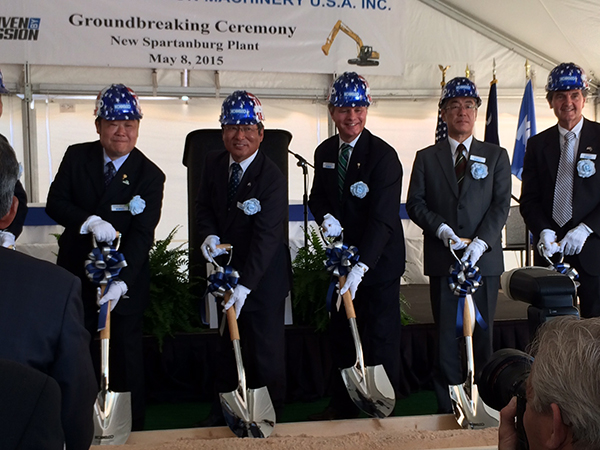 Groundbreaking ceremony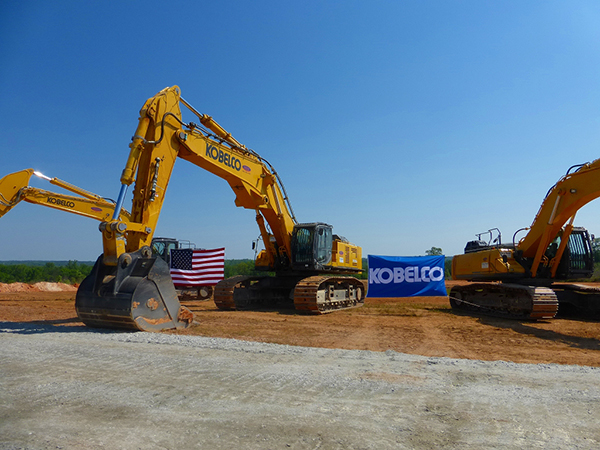 Excavators used for site preparation of the U.S. plant are displayed
in front of the groundbreaking ceremony venue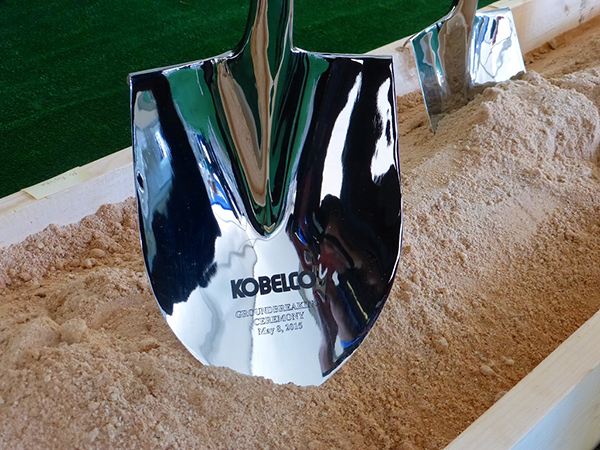 Commemorative shovel used during the groundbreaking ceremony
<Site preparation is underway for the U.S. plant.>