| | |
| --- | --- |
| | Kobelco Construction Machinery Co., Ltd. |
November 13, 2009
Hybrid Excavator to be Launched
Amazingly Economical with Fuel!
KOBELCO Construction Machinery will launch its 8-ton class SK80 hybrid hydraulic excavator
(SK80H-2) on the Japanese market in January 2010.
The SK80 Hybrid has been shown to use 40% less fuel compared with a conventional 7-ton machine. The hybrid technology that achieves this amazing low fuel consumption is expected to further reinforce KOBELCO's established reputation for fuel economy.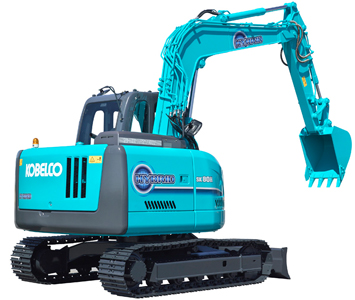 Hybrid Hydraulic Excavator SK80H
To launch the SK80 Hybrid, focus was placed on two main points: first, outstanding and unmatched fuel economy, and second, with the need everywhere to cut CO2 emissions, creating a product to work in built-up areas where people will notice its effect. The SK80 Hybrid excavator going on sale is a low-noise urban-use construction machine. We are confident that people will notice the difference not only in its reduced fuel consumption and CO2 emissions, but also in its extremely quiet operation. KOBELCO's hybrid system evens out loading on the engine, saving the excess energy when the load is light to assist when it's heavy. This makes it possible to use a smaller sized engine and thereby make big savings in fuel consumption. Further energy savings are made not just by recovering energy from swing deceleration, but by utilizing unique KOBELCO technology to recover and recycle excess energy from engine idling, for a first in a construction machine. (As with conventional machines, the hybrid is fitted with an idling stop device that is activated when idling exceeds one minute to prevent waste of energy.)
The SK80 Hybrid is equipped with a nickel-metal hydride battery. Its high energy density has a powerful assisting effect, and also makes it more compact in size, so it has the double merit of saving on both energy and space.
With the improvement in fuel consumption, it saves at the very minimum 40% on fuel. (KOBELCO tests, compared with conventional machine) And according to data from site monitoring, the machine has achieved startling levels of fuel economy even better than this.
(Cases of lowered fuel consumption: house demolition site: down 54%; waste disposal site: down 59%; ground preparation for house-building: down 60%)
After the world's first completed hybrid hydraulic excavator was unveiled at the INTERMAT construction machinery trade show in France in April 2006, it was shown at Japan's CONET show in July and at CONCRETE in Las Vegas in November that year, and then in Shanghai at BAUMA in October 2008. KOBELCO has thus demonstrated its hybrid hydraulic excavator technology in the leading markets worldwide: Europe, Japan, America and China. Subsequently, data amassed from tests to monitor machine performance were used to identify and resolve any remaining problem areas, and we are finally able to offer it for sale in January 2010.