| | |
| --- | --- |
| | Kobelco Construction Machinery Co., Ltd. |
April 18, 2006
Prototype HYBRID excavator to be exhibited at INTERMAT 2006
Kobelco Construction Machinery Co., Ltd. and its global partner CNH Global NV are taking an active and forward role in providing environmentally friendly products.

On these lines, at the international construction equipment exhibition, INTERMAT 2006, to be held in Paris, France, from April 24 to April 29, CNH will unveil at its NEW HOLLAND booth the HYBRID excavator developed by Kobelco. In the construction equipment industry, this prototype is ahead of its time.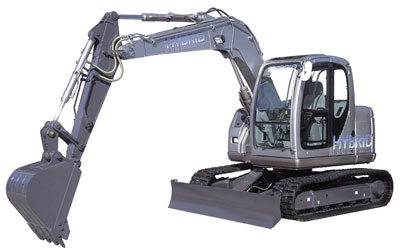 This HYBRID excavator is a 7-ton class machine. The hybrid system enables the excavator to be powered by both an engine and a battery-powered motor. The HYBRID excavator has the same capabilities as a same-class excavator powered by only a diesel engine. Furthermore, fuel consumption and CO2 emissions are reduced by 40%. Owing to the use of a smaller diesel engine, the noise level has been reduced.

To bring this excavator to the market, Kobelco will spend the next year working on the following areas:
- Assess performance, functions and quality of the prototype
- Assess market trends
- Reduce costs

Kobelco and CNH, as global partners, aim to provide products that are both friendly to the environment and that contribute to society.