February 8, 2005
8 machines donated to Aceh, Indonesia Handing-over ceremony held in Jakarta
The Kobelco Construction Machinery Group and alliance partner CNH Global N.V. donated eight machines to Indonesia's Ministry of Public Works for reconstruction work in Aceh.
A handing-over ceremony was held on January 31 at the Ministry of Public Works in Kebayoran Baru, Jakarta. Presenting the equipment were Hiroo Shimada, President and CEO of Kobelco Construction Machinery Co., Ltd. and David Beatenbough, director of the Asia Pacific region at CNH Global. Others in attendance were Hiroshi Kajiwara, managing director of Kobelco International (S) Co., Pte. Ltd.; Rahadian Mahendra, President Director of PT Daya Kobelco Construction Machinery Indonesia; and Saripin Taidy, President Director of PT Probesco Disatama.

After Shimada presented the equipment manifest to Djoko Kirmanto, Minister of Public Works, a departing ceremony was held for the eight construction machines bound for Aceh. The eight machines consisted of two hydraulic excavators (12-ton SR Series, and 20-ton Dynamic Acera), a bulldozer, two wheel loaders and three backhoe loaders. In addition to the equipment, operators and spare parts were provided at no cost.

The contribution is part of a pledge that Kobelco and CNH made earlier to donate 100 million yen (about US$1 million) worth of aid in relief goods and construction equipment to the disaster areas.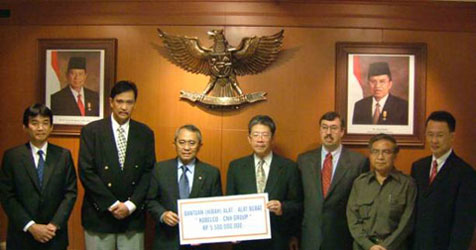 (From left) Hiroshi Kajiwara, Rahadian Mahendra, Public Works Minister Djoko Kirmanto, Hiroo Shimada, and David Beatenbough. At far right is Saripin Taidy.